STUDENT LOANS AND STARTING WITH LESS THAN NOTHING
May 11, 2015
Follow Networthy on Twitter
I'm a twenty-something with a college degree. Do you know what that means?
That's right kids.
STUDENT LOANS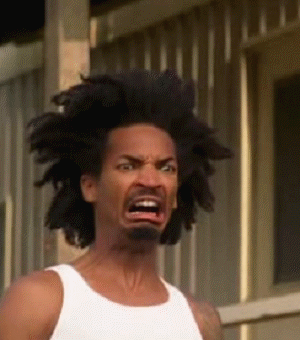 Oh yes...that dreaded creature, stalking us in the night, hiding under the bed, waiting around corners and popping out when you least expect it to cry its unearthly cry: "YOUR PAYMENTS ARE JUST GOING TO INTERESSSSSSSSSST."
Ok, but in all seriousness, student loans suck big time and the cost of college is out of control. We can debate back and forth about the value of college and how you can learn a trade or how us entitled millennials need to quit whining or blah blah blah. But honestly, most young people are being told that they must go to college. And that means that your average 22 year old walking around these days owes between $20,000 and $200,000 — it's like leaving the starting gate to run a race while carrying an anvil.
Who among you has gone looking for personal finance information, and read a story like this:
"Bill Schmoe realized one day that he needed to get his finances under control. He and his wife had racked up $50,000 on credit cards, owned a 5 bedroom home that they couldn't afford, and were having trouble making their boat payments. So he wised up! He sold his convertible, bringing the family down to just two cars. His wife auctioned off her collection of Prada handbags and put the profits towards the credit cards. They started sharing their boat with their neighbors, and sold their home and moved into a 3 bedroom condo. They also canceled their 500 channel cable package, home phone and Sirius XM subscription. Now Bill is managing to save a portion of his $100,000 salary. What admirable sacrifices!"
And if you're like me, your reaction was:
Now, I don't mean to sniff at people who find themselves in the trap of overspending and then dig their way back out of the hole. That really is a wonderful turnaround. But when you're a young person leaving college and trying to figure out your finances, this story does nothing for you! When I look at my friends, not one of them is in financial trouble because they just have too many vehicles or gadgets or are spending too much on a cable package. I can't think of one of my friends who actually has cable — we all rely on Netflix and YouTube and other cheap streaming services. (And honestly, talking about canceling your home phone is the most boomer-generation thing ever. No one has a home phone under age 30 unless they live in a reception dead zone.)
What we need are stories that say, you know what? You're starting with a negative net worth. You don't have anything you can exchange for money except your time and knowledge. You have no income to start. What does that story look like?
In a nutshell, I think all you can do is this:
Get a Job. And If You Can't Get a Job, Get a Gig.
I know, I make it sound so easy. But there's no solution to loans that doesn't start with you having some kind of income. Unfortunately the job market is still crappy and unpaid internships are sucking the lifeblood from our generation. So if you're having trouble finding work that uses your degree, be flexible. If you're able bodied, you can wait tables, do yard work, shovel driveways, load moving vans, babysit, work as a "brand ambassador" (read: booth babe). Check out Craigslist! (And ignore the sketchy ads for "tasteful photography, 18+.") If you need a less physically-demanding job you can offer to help people sell items on eBay for a commission, or work as a mentor, or (lol) blog! You never know who you might meet, or who might be able to act as a reference for you later on. Meanwhile, keep hunting on Indeed, Craigslist and in the newspaper (yes, they still exist).
Stay Conscious of Lifestyle Inflation
Humans get used to nice things and comfort pretty damn fast, and forget that they could ever live without the luxuries they now enjoy. If you've always, always had your own car, and someone told you that the best way to save money is to sell you car and walk everywhere, you'd think they sound crazy! But if you've never had a car, and someone said, "The best way to save money is to keep not having a car," you'd shrug. No big deal.
So watch out for those things that will be all too easy to get used to. Maybe you really do need a car after college. But do you really need a fancy car with bluetooth connectivity, a sun roof, XM radio, heated seats and a remote starter? Sure, those would be fun to have, but you're basically damning yourself to want that level of quality or higher for the rest of your life. From this minute on, anything of lower quality will feel like a deprivation. So why not go get a base model sedan with a CD player? It will still feel like a luxury — you went from no car to car! And if later down the road you get a car with cruise control or a rear wiper, it'll be the another pop of excitement and luxury! Rinse and repeat. You will save thousands of dollars over the course of your life by moderating your expectations now.
Find Cheap Housing
Housing is the number one budget buster when you're starting out. How can you pay $1000 for an apartment and $500 in student loans and have money left over for utilities, food and transportation, let alone fun, on a minimum wage budget?
Well, you kinda can't. You need help.
I was lucky — I met my now-husband in high school, so when I graduated college, I had a built-in roommate to sharing housing expenses with. And that has made a huge difference in my ability to save, deal with unexpected expenses and manage food and utility budgets.
If you can handle the shared space, then having roommates is one of the best ways to keep your living expenses down. And if have a good relationship with your parent(s), count yourself lucky and go make the most of that resource by living at home as long as you can. If you have health or mental/emotional health issues that would make it difficult to share space, then just do your best to find a small, simple apartment and hustle away to increase your income.
Learn About Your Loans
There are a ton of great resources out there to help you understand your loans.
Basically, we can all manage. We just have to be smart out of the gate. And I'll be here, chugging along with you.